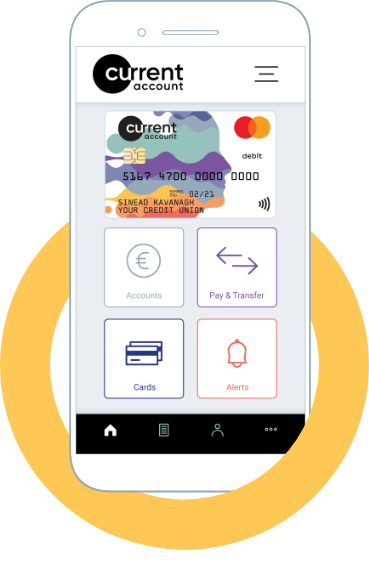 Introducing
the new current account
from your credit union
You can now manage your daily finances no matter where you are in the world. With access to your funds in-branch, online or on the app, Current Account from your credit union gives you all the benefits you expect, but with the personal touch of your trusted credit union.
Features & Benefits
Easy to sign up
Same friendly service
Globally accepted Mastercard® Debit Card
Use in-store, online or at ATMs
Cashback available at participating retailers
Contactless payment
Transparent Fees
No surcharge interest on overdrafts
Automate regular payments using Standing Orders & Direct Debits
Stay in control with our Mobile App, eStatements and eFee Advices
Secure online shopping
24/7 support for lost/stolen debit cards
115+
participating
branches
Find your credit union
With over 115 credit union branches now offering current accounts, the real choice in managing your money is finally here.
115+
participating
branches
Help & Guidance
FAQs
All you need to know about the new current account from your credit union.
Fees
Our fees are transparent and competitive.
Contact
Find your nearest participating credit union.
Overdraft
Deal with unexpected expenses.
Your trusted credit union
Credit unions are owned by our members- the people who save in and borrow from their credit union. We are not-for-profit and exist only to serve our members. We are embedded in our communities and pride ourselves on our face to face customer experience. As part of our commitment to help members manage their money needs, we now offer current accounts, provided by your trusted credit union.
Best Customer Experience for the 5th year in a row
How to sign up
Are you a credit union member?
The new current account service is available to existing credit union members only. Why not become a member today by getting in touch with one of our participating credit unions here.
Does your credit union offer Current Account?
The new current account service is available at 115+ branches throughout Ireland. Find out here if your credit union is a participating Current Account provider.
Sign up today
It's very easy to sign up, simply click on the sign up button below and we'll help you open your new Current Account.